Building your job search strategies is not always an easy process. First, you should understand the current job market conditions and the best ways to drive your job search. For the past for years, LinkedIn has been providing analytical reports to help job seekers with their search and providing up to date recruiting trends. In this year's LinkedIn US Recruiting Trends 4th Annual Report, one can see a clear shift in the methods employers use to recruit candidates and advertise available opportunities within their companies.
According to the report, the top three ways companies recruit in 2015 are:
1. Social professional networks – 46%,
2. Employee referral program – 45%, and
3. A company's career website (its own posting) – 44%
Additionally, the report points out that this year the low cost recruiting methods also seem to offer the most quantity and quality of candidates. Take a look at the top five methods in the upper right-hand quadrant of the graph below.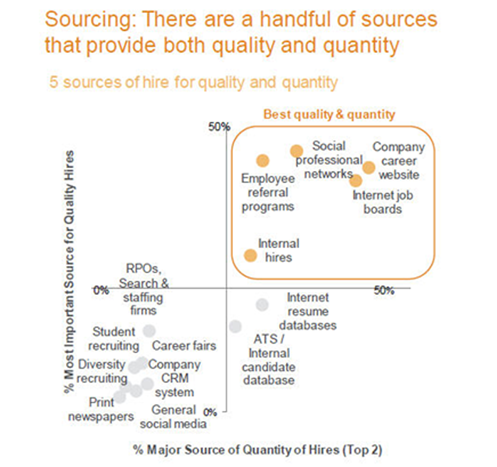 It's important to remember that small employers recruit differently than larger employers. Large employers, according to the report, are those that employ over 500 employees and they are the ones that use the top three recruitment methods mentioned above. Small employers tend to focus more on internet job boards. Thus, you should use similar search methods to the ones preferred by your target employer.
Finally, companies large and small actively recruit students and young professionals. Unfortunately, there are a few obstacles employers face and as a student or young professional you should be aware of the following:
1. There is a lot of competition among this age group of applicants, so be sure to find a way and distinguish yourself from the rest of the candidates. Make yourself memorable and showcase your unique skills.
2. Research the average salary for the position you are applying for and know your worth. It's important to know your value and be able to negotiate with an employer is needed.
3. As an applicant, you should research the company you are applying to and familiarize yourself with their products/services, mission, values, and publications.
In conclusion, building a strategy and following a through with it is key to an effective and successful job search process. If you would like additional help with your strategy, contact an employment coordinator today.
Image Source: LinkedIn Report Data (chart replicated from report page 14)