Summary of our Engineering Technician Program
 Brighton College's Architecture and Civil Infrastructure Design programs provide students with diversified training and relevant skills which are essential in the engineering field. Students will acquire intensive training in designing, analyzing, estimating, constructing and managing projects. Both engineering programs cover local industry standard practices, design methodologies as well expose students to high-level Computer Aided Design software used by professionals in the industry. All engineering professors have relevant industry designations and a minimum of 5 years direct experience working in the architecture and civil engineering industries.
---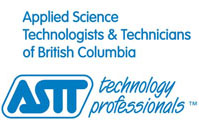 Our Civil Infrastructure Design Technology diploma program is nationally accredited by the Canadian Technology Accreditation Board. Graduates from this diploma program will be eligible for Certified Technician registration with the ASTTBC. 2 years work experience with at least 1 year work experience in Canada is required.
---
The Industry
Vancouver is consistently ranked as one of the most livable communities in the world (The Economist, 2012), and this title comes not only as a result of Vancouver being surrounded by scenic mountains and ocean, but also for the city's spectacular modern architecture.
Now in the run for being the world's greenest city by the year 2020, Vancouver is investing heavily in sustainable architecture as well as in green design.
With numerous elite civil engineering and architecture firms spread throughout the city, Vancouver's architecture industry continues to boom with abundant opportunity at hand.
Also recognized for being a clean and efficient city, Vancouver's top-quality infrastructure design contributes to the high standard of living which the city offers to its residents.
Recently, Vancouver has been facing issues with significant traffic congestion, giving its civil engineers plenty of opportunities to develop more efficient and innovative solutions to this issue and many others.
---
Testimonials