As a blog writer, I am always searching for new and exciting topics and events to cover for the Brighton College Blog. This week I thought I'd try something a bit different and I attended a Web Marketing class with our newest instructor Daman Beatty!
Daman is a homegrown Canadian who specializes in Marketing Management & Communications and he is also a Technology Consultant with a Visual Design and Media background. Daman is also involved with Surrey 604, an event and lifestyle blog for the city of Surrey, British Columbia. Obviously, with an abundance of experience in the area, how could we not pounce on the opportunity to have him teach our specialized Web Marketing program!?
The class was small, giving students a comfortable vibe and enabling a ton of class discussion throughout the lesson. The class I attended covered topics relating to social media and more specifically, viral videos, Twitter and Hootsuite. Daman did an excellent job of keeping students engaged with his presentation on viral videos. An interesting topic discussed was how viral videos are being utilized as marketing strategies by big companies worldwide since they are so beneficial for a company's brand proliferation. The lecture used terms and ideas that were conceptualized by local Vancouverites such as Tod Maffin.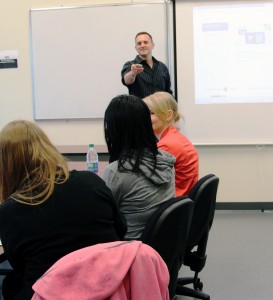 The Web Marketing Diploma as a whole is designed to help students get to know how online marketing efforts can drastically improve brand awareness. Businesses that are engaging with customers online already know that online marketing is effective. Not only is doing business online environmentally friendly, it's cost-effective, allows your business to have a 24 hour-a-day presence and it saves time!
Students taking the Web Marketing Specialist Diploma will learn how to increase traffic to company websites by utilizing social media and search engine optimization as well as receiving their Google Adwords certificate.
If you're still curious about what happens in a Web Marketing class at Brighton College feel free to stop by and meet with an educational advisor, or even say hi to Daman and sit in on one of his classes!