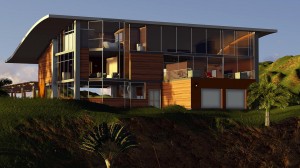 In this week's student story video, we meet Matt Maxey, an Architectural Design and Construction student. Matt is originally from eastern Canada and started out as a snowboarding instructor. He came to the west coast to pursue his career on the snow in the BC Mountains, but after teaching at various ski resorts for a number of years, Matt suffered an injury that sadly ended his career on the mountain.
Wanting to move forward, Matt began thinking about his new career. Realizing that architecture had always been an interest of his, he started to look into career training options.
When he found Brighton College, Matt first started with the Construction and Drafting Technician program. He soon decided to add the Architectural Design and Building Technician diploma to his course-load as he wanted to fast-track his way to his ideal job as an Architect.
And he did just that: Matt is currently self-employed and building his business. He creates renderings, designs, interior renovations and assists by filling in for architects on a variety of projects for various companies. His advice to you? Once you get started, don't stop and keep working hard every single day.
Congratulations on your success, Matt! You can view Matt's entire portfolio here: mattmaxey.wix.com/mattmaxeydesigns
You can view all our student success stories in our new My Stories web series. Visit brightoncollege.com/mystory to see more and apply for your chance at a $1000 scholarship to Brighton College!