Celebrating this year's graduates and their amazing accomplishments is always the highlight of the year. There were many moments to be captured and cherished during the evening of festivities.
Gowns worn,
hats dropped,
selfies taken,
photos bombed,
arms embraced,
hands shook,
certificates accepted,
awards given,
and tassels shifted.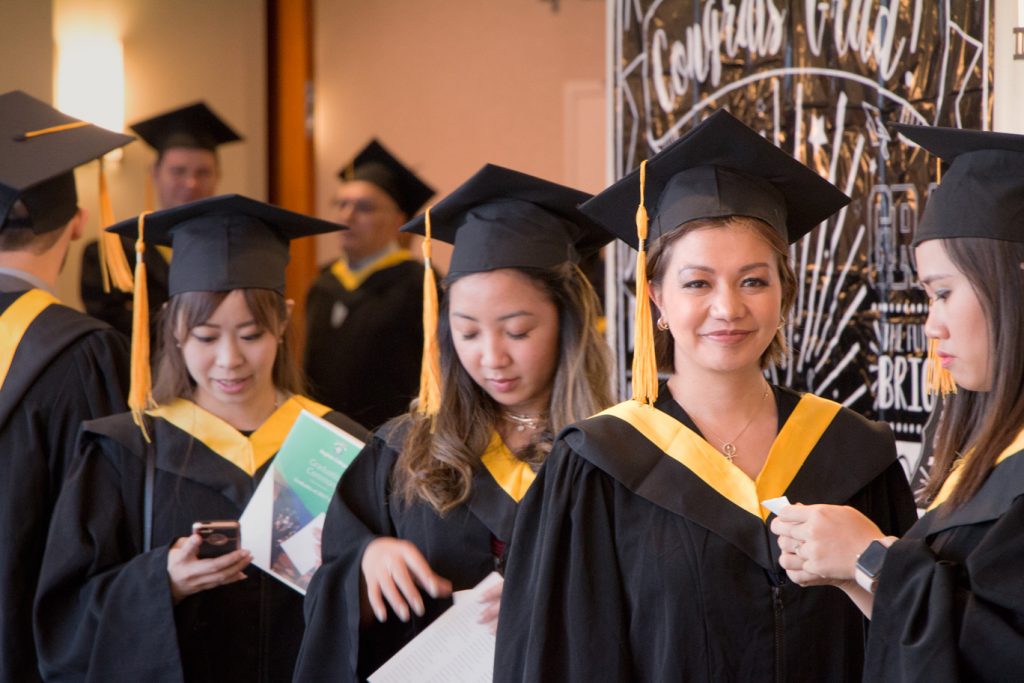 Opening Ceremony
As the sea of black robes and yellow tassels moved into fill the central area of the ballroom, you could feel the proud beams from all directions of the room radiating from parents, friends, and the college staff alike.
"Today [we] recognize and celebrate the academic achievements of our students. Your hard work has paved the way for you to walk the stage proudly today."
– Amanda Cabrera, Dean of Academics
With yellow roses in hand, graduates were seated to in anticipation of their moment; walking across the stage and receiving their long-awaited certificates confirming the completion of their respective academic programs.
The whole ceremony is nicely summed in this video for those who attended to cherish, and for those who were not able to attend, to feel part of the moments of the evening that made it so special.
---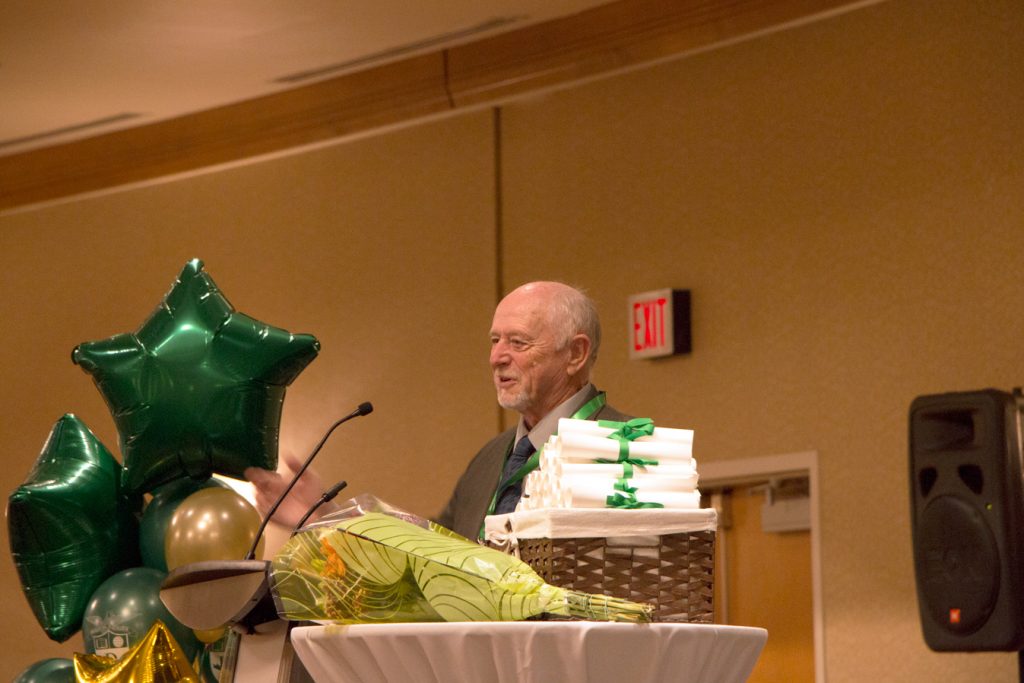 Address from Board Member- Geoff Sale
This year, our board member, Geoff Sale, Manager of Internationally Trained Professionals, ASTTBC member and former Chair of Canadian Technology Accreditation Board, congratulated the students on behalf of faculty. Mr. Sale reminded students that this is not the "end of your educational adventure-this is simply a mile marker" and that learning is a life-long process. He spoke about the future of the students but also looked at the larger picture, which is how we play a role locally and globally.
Filled with passion and wisdom, Mr. Sale urged students and those in attendance to look at how they can continuously do to contribute in their civic duties and to help combat climate change. He spoke of reducing landfill contributions, participating in elections, and other civic involvement. It was a truly inspiring speech about finding your role in life for a greater purpose and being conscious of the big picture and the future of the earth.
Awards and Presentation
Brighton College Board Members Geoff Sale, Marv Westrom, and Barbara Moon were pleased to congratulate each student for their achievement. Along with the Board of Governance members, our Program Coordinators, were there to shake hands and congratulate each of their respective graduates as they crossed the stage.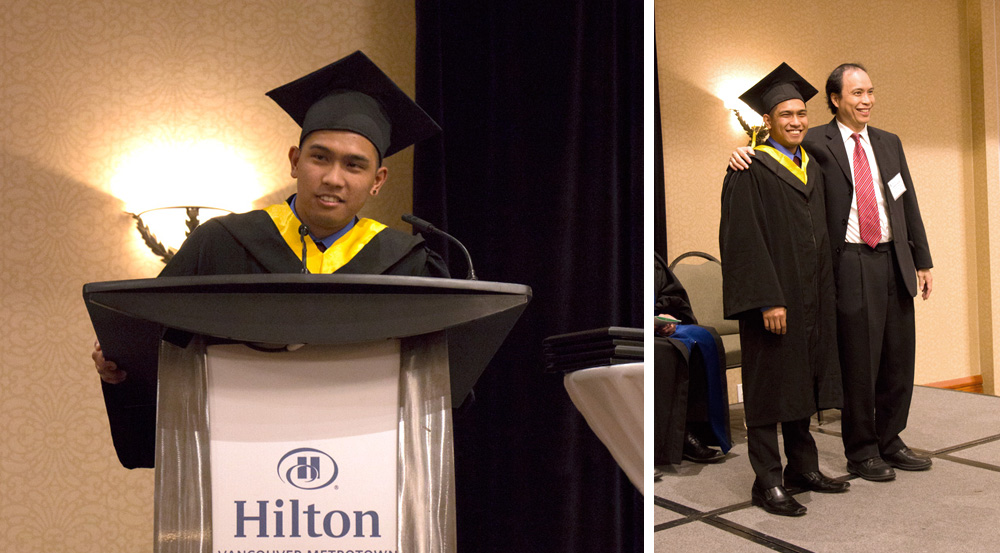 Lemuel Pantani | 2018 Valedictorian
"When I first came to this school, I felt like a one-man army…During our time at Brighton [College], we met many new people and friends…we have shared our memories with. I am sure many of us can agree that waking up was never an easy task, but knowing that the rest of [the group] was going to be there made the experience much more exciting and enlightening."
– Lemuel Pantani, Valedictorian Class of 2018, Graduate of Brighton College's AutoCAD Drafting and Design Specialist Diploma
Lemuel was chosen as this year's class valedictorian by our Building and Engineering Technology Program Coordinator, Edward Cheung, as he distinguished himself in both attitude and academics. He was proud to accept the honour and nervous to fill his role as the final farewell to all his classmates and peers before they receive their diplomas and pursue their career paths after graduating. His speech was reflective, but also bright and optimistic for the next steps.
His final remarks were a quote by William Arthur Ward, which summed up the actualization the students have of finishing their program and setting out into their bright futures, no matter where their career paths take them.
"If you can imagine it, you can achieve it. If you can dream it, you can become it.
– William Arthur Ward"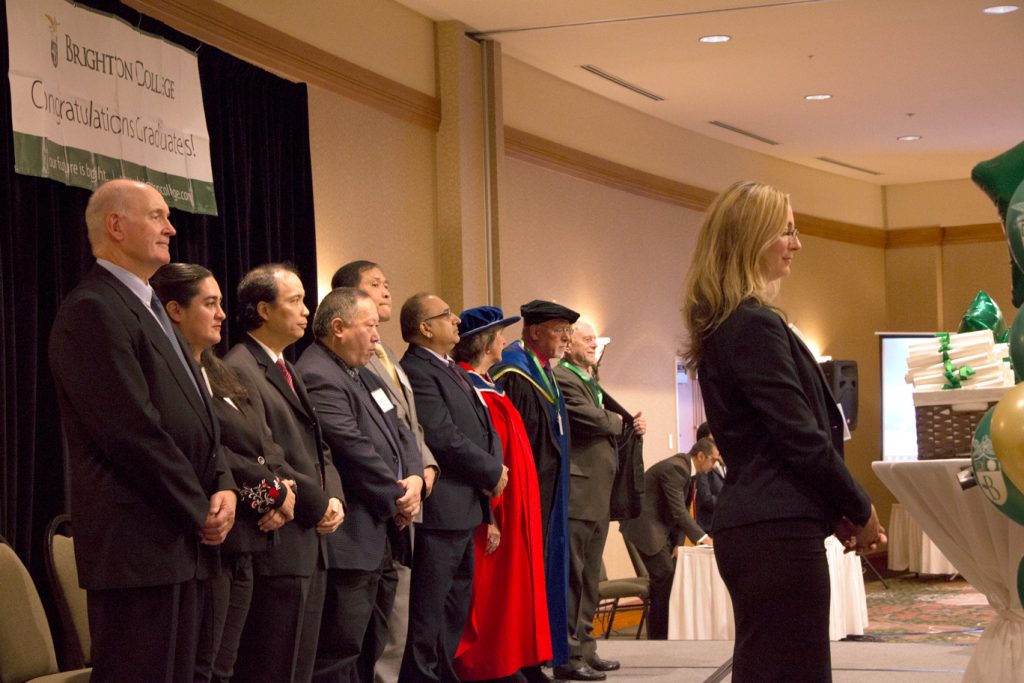 From left to right: Brighton College Program Coordinators, Barry Morgan [Hospitality], Beatriz Zarzosa [International Trades], Edward Cheung [Building and Engineering Technology], Jim Wong [Accounting and Payroll], Joe Sam [Business], Stan Binning [Information Technology] and Board of Governance Members Barbara Moon, Marv Westrom, and Geoff Sale join Dean of Academics, Amanda Cabrera, in welcoming the graduates of 2018.
Dean's List Awards
Students that graduated with great distinction on the dean's list received awards commemorating their high academic achievements. Our Board of Governance member, Marv Westrom, was there to present them with this prestigious award.
A Final Congratulations
We are so proud of all of our Brighton Graduates and we wish them a very bright future ahead.
As this chapter closes for you all, it is a time to reflect on what this education and experience has meant for you and what may lay ahead. Remember that the future is yours to create. Use your knowledge to do great things.
"An investment in knowledge always pays the best interest." – Benjamin Franklin
Your future is bright.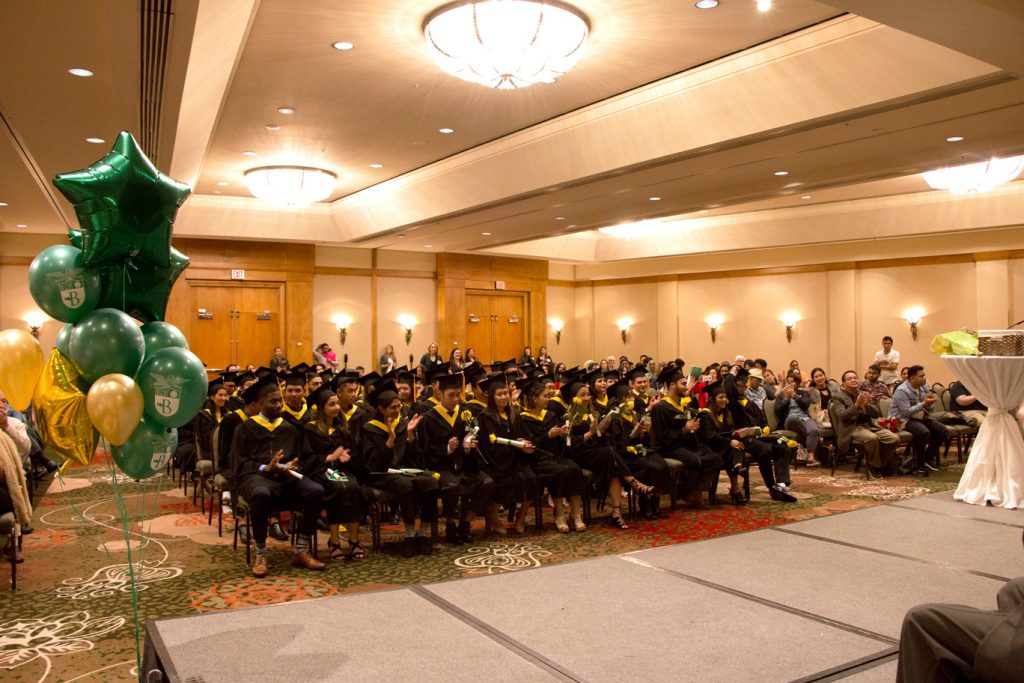 • Graduation Ceremony Photos | Brighton College Graduation Ceremony 2018
• Graduation Stage Photos | Brighton College Grad 2018 On Stage pictures
---
For more photos and videos of the event, follow us on Facebook and Twitter and subscribe to our YouTube channel!