Civil Infrastructure Design Technology Diploma
---
The Civil Infrastructure Design Technology diploma program provides students with diversified training and essential skills related to civil engineering and infrastructure design professions. Students will acquire intensive training in designing, analyzing, estimating, constructing and management tools commonly used in civil engineering infrastructures. Local industry standard practices, design methodologies as well as high-level computer-aided design / drafting software will be used to design roadway, transportation system, underground municipal piping, environmental remediation facilities and building structures. This diploma program is nationally accredited by the Canadian Technology Accreditation Board (CTAB). Graduates from this diploma program will be eligible for Certified Technician registration with the Applied Science Technologists and Technicians of British Columbia (ASTTBC) (2 years work experience and at least 1 year work experience in Canada are required).
This 35-week diploma program is fully instructor-led. The curriculum includes experiential lectures and workshops facilitated by specialized industry experts. All instructors have relevant designations and at least 5 years experience in the industry. The program includes a 4-week work experience (practicum) at a various design or engineering firm. The successful completion of all the courses including a 4-week practicum is required for graduation.
The program duration is 35 Weeks:
31 Weeks theory classes, 4 Weeks practicum
The theory class is 20 hours per week:
20 hours lecture & discussion
The Civil Design Program is Accredited by: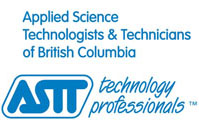 Admission Requirements
High school diploma (or equivalent) or mature student status;
Domestic: Grade 10 English or pass College English assessment; International student: IELTS 6.0 proof (or equivalent) or pass College English assessment
Pass College mathematic assessment or Math 11 and above
COURSE DESCRIPTIONS
This program emphasizes practical hands-on infrastructure practices in design civil engineering. All aspects of design, drafting and construction methods are taught in lecture format augmented by on-site field visits.