PROGRAM OVERVIEW
The Civil Infrastructure Design Technology Diploma program provides students with a wide range of training and essential skills required for professions in civil engineering and infrastructure design. Students will acquire intensive civil design training in designing, analyzing, estimating, constructing and management tools commonly used in civil engineering infrastructures. Local industry standard practices, design methodologies as well as high-level computer-aided design / drafting software will be used to design roadway, transportation system, underground municipal piping, environmental remediation facilities and building structures.
This 32-week diploma program is entirely instructor-led. The curriculum includes experiential lectures and workshops facilitated by specialized industry experts. All instructors have appropriate designations and five or more years of experience within the civil design and engineering industries. The diploma program includes a 4-week work experience (practicum) at a local company in the lower mainland. Students must complete all courses of the Civil Infrastructure Design Technician Diploma with an overall 70% grade average in order to graduate. For standalone civil design courses, students should maintain an attendance rate of at least 80% and a grade of at least 60%.
This program is 32 weeks duration:
28 weeks instruction and 4 weeks practicum.
The Civil Design Program is Accredited by: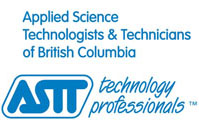 Admission Requirements
At least 18 years old; high school graduation or equivalent; pass college admission test; proof of IELTS level 5.5 or equivalent.
COURSE DESCRIPTIONS
This program emphasizes practical hands-on infrastructure practices in design civil engineering. All aspects of design, drafting and construction methods are taught in lecture format augmented by on-site field visits.