International Trade Diploma
---
The world's economy is increasingly global. As a result, demand continues to grow for individuals who understand the global context of business: from the logistics of international trade and cross-border investments to the cultural and ethical issues that are involved in the practice of global business. These skills are increasingly valuable to employers faced with the challenge of opening and integrating multiple markets and increasingly diverse workforces. For these and other reasons, Brighton College strongly believes that International Trade represents free trade which promotes Canadian economic growth; creates jobs, and makes companies more competitive.
In order to provide an excellent International Trade program, Brighton College has partnered with two of the most respectful institutions of International Trade and Freight Forwarding in Canada: FITT & Ciffa; creating and exciting and knowledgeable course structure. The structure of the program consists of the two separate certifications that are recognized worldwide: The FITT certification, composed of 6 course modules, all required by FITT for the Forum for International Trade Diploma, and the initial educational requirements for the Certified International Trade Professional designation (C.I.T.P.). Responsive to standards and demands of industry for training in this field, Brighton College has become a platinum accredited partner with FITT (Forum for International Trade Training). The second certification is achieved by the completion of Module 1 of the Canadian International Freight Forwarders Association (Ciffa) program.
Admission Requirements
High school diploma (or equivalent) or mature student status;
Domestic students: Grade 10 English or pass college English assessment; International students: IELTS 6.0 proof (or equivalent) or pass college English assessment
The International Trade Program is Accredited by: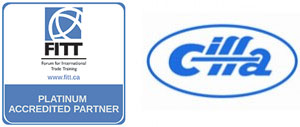 Students will receive the following certifications upon successful completion of program and required exams:
Brighton International Trade Diploma
FITTskills Diploma is received after 6 Trade courses and 2 FITT skills and successful completion of online exams
FITTskills Diploma, with at least one year of work experience, eligible for the Certified International Trade Professional (C.I.T.P.) designation
CIFFA certificate is received after successful completion of two CIFFA online exams
COURSE DESCRIPTIONS
The program is delivered in an in-class instruction method. The program has a continuous intake model. Students start the program with any courses indicated with (*) and then complete the remaining lecture courses in any order unless there is a prerequisite. Refer to course description for prerequisite.